Stolen dog found in Leicester 100 miles from home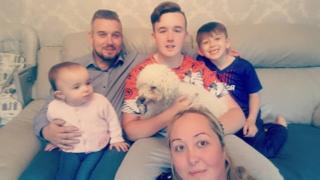 A dog that was bundled into the back of a car in front of its owner has been found about 100 miles (160 km) away in Leicester.
Mia, a Bichon Frise, was stolen from Adam Harcup close to his home in Wraysbury in Berkshire.
He and his family began a social media campaign to bring her home about five weeks ago.
Mr Harcup said he was "shocked" when he got a phone call from a dog warden to say Mia had been found.
He said: "We were all devastated. We were in shock that somebody had just stolen our dog.
"I ran into the house to get my car keys to follow them, but I didn't know where they had gone.
"We rang the police and put loads of messages on Facebook. We had people sharing the posts the length and breadth of the country."
On 11 May, he said he got a phone call from a Leicester dog warden who scanned her microchip after she had been found wandering the streets.
"I drove up the next morning to get her," he said. "[The kids] were over the moon. She was a bit dirty, so we gave her a bit of pampering.
"But I don't think she's been affected by it - she's behaving as if nothing has happened and she's just been away on a holiday.
"If only dogs could talk, she could tell us what went on."