Ramniklal Jogiya death: Two men admit kidnap and robbery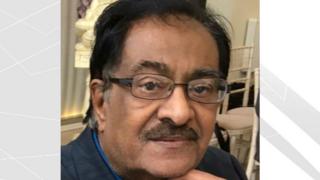 Two men have admitted taking part in the kidnap and robbery of a city jeweller who was later found dead.
Callan Reeve, 20, of Leicester, and Thomas Jervis, 24, of Whetstone, denied manslaughter and murder but pleaded guilty at Leicester Crown Court to robbery and kidnap.
Ramniklal Jogiya, 74, left his shop on 24 January and his body was found the next morning in Stoughton.
Javon Roach, 30, from Leicester, pleaded not guilty to all the charges.
Charlie Ward, 20, from Leicester, will appear at a later date charged with murder, unlawful act manslaughter, kidnap and robbery.