Ramniklal Jogiya death: Four men charged with murder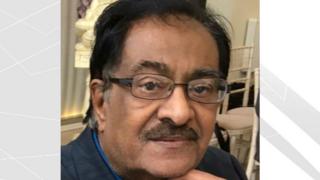 Four men have been charged with murder following the death of Leicester jeweller Ramniklal Jogiya.
The 74-year-old did not return home after leaving his shop on 24 January and his body was found the next morning in Stoughton.
Thomas Jervis, 24, from Leicestershire, Charlie Ward, 20, Callan Reeve, 20, Javon Roach, 30, all from Leicester, have already been charged with unlawful act manslaughter, kidnap and robbery.
They are due in court on Friday.