Plans for 3,000 homes at former nuclear missile site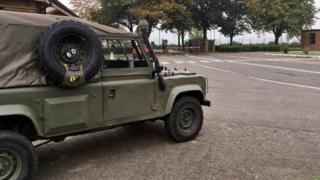 Plans to build 3,000 homes at a former nuclear missile site have been unveiled to the public.
St George's Barracks, in North Luffenham, Rutland, is due to close by 2021 and be sold as part of a review of Ministry of Defence land.
Some residents have expressed concern at the size of the development.
Rutland County Council said the 300-hectare site will be redeveloped into a "garden village", with more than 60% of it remaining green space.
The proposals include a school and social hub, complete with a country park and sports facilities.
An area of the base, formally known as RAF North Luffenham, was selected as a nuclear missile site in June 1958.
Three launch pads, on which Thor missiles were pointed towards Russia during the height of the Cold War, have listed status and therefore cannot be developed.
Oliver Hemsley, leader of Rutland County Council, said planners hope to turn the area into a "heritage zone".
"[There will be] probably 3,000 homes or thereabouts on the site, there will be 14 hectares of employment land and that is very important because we want to make sure there is one job per household."
RAF North Luffenham was also used as a training field and then a heavy bomber base during the Second World War.
The housing proposals will go on public display around the county from Monday.