Leicester lord mayor finds honour has gone to his head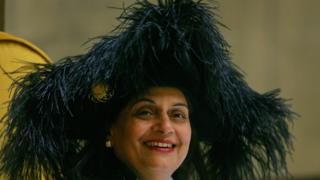 Local authorities are facing lots of squeezes - but Leicester's is coming from an unusual direction.
The city's new lord mayor has found both the official tricorn hats of office are too small.
Ross Grant, who takes up the position this month, said the problem emerged as he was having his official photo taken.
He said: "Neither would go on so I just had to hold it. Now we are looking to see if another council has a bigger size going spare."
As reported in the Leicester Mercury, the role of lord mayor is mainly ceremonial, with distinctive robes, badges of office and a large, feathery old-style hat.
Mr Ross said: "During the fitting I tried the first one on and it wouldn't go on.
"I was told 'No problem, we have a larger one' but that wouldn't fit either.
"I don't suppose some of the public would be too surprised to hear about politicians having a big head."
After deciding to hold one of the hats for the official photographs, attention turned to finding a solution.
Mr Ross said: "A lord mayor's hat is not something you can get off the peg, so to speak.
"While we don't really want to spend money on a new one, there are some occasions, like the centenary of the armistice, that require the full regalia.
"That's when it was suggested we should ring round some other councils."
Children 'disappointed'
A traditional felt tricorn hat with ostrich feathers is thought to cost upwards of £450.
Mr Ross said "I can't say wearing all the robes was the bit I was really looking forward to.
"I think the most disappointed were my children; they wanted me to look like Captain Hook.
"And while all this was going on it did remind me that it was a bit a problem getting a helmet last time I went go-karting."
The city council has said it would release the official photos, with the new lord mayor holding his hat, when he takes his post on 17 May.