East Midlands Ambulance Service to get £19m to hit targets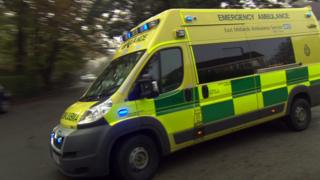 An ambulance trust which has failed to hit response time targets for years will get up to £19m a year in extra funding.
East Midlands Ambulance Service (EMAS) is reaching the most critically ill people in an average time of nine minutes, two short of its target.
Local NHS health bosses have agreed to a 12% funding boost to pay for 300 extra staff, mostly on the frontline.
EMAS hopes to hit all its response time targets by next April.
The NHS clinical commissioning group (CCG) in the East Midlands said it could hold some money back if the trust did not deliver as promised.
EMAS asked for an additional £20m for each year last month and met with the region's CCG groups to discuss the request.
The BBC understands that the trust has been granted about £9m this year and up to £19m every year after that.
In a Care Quality Commission report last year, inspectors said EMAS continued to have problems with response times.
EMAS said one of the problems in meeting targets was hospital handover times.