Mental health delays in Leicester 'lead to suicides'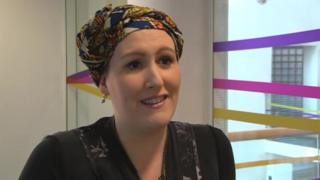 Some mental health patients have taken their lives because of long delays in getting treatment in Leicester, campaigners have claimed.
Patients in the city have to wait an average of 135 days for first treatment after being referred.
Leicester's waiting times are the highest in the country.
Nottinghamshire Healthcare NHS Trust, which runs Leicester's mental health service, said "significant improvements" have been made.
Samantha Sinykena, who has depression and an eating disorder, said she had a six-month wait for her first therapy appointment after a GP referral.
Ms Sinykena said she is still waiting for psychotherapy two years after a referral.
"Had I not had family with me, and friends, I probably would have killed myself," she said.
"I'm quite lucky in that I have an amazing husband, mother and friends that are really, really supportive but I know not everybody has that support network."
Sue Langley, from Leicestershire Action for Mental Health Project, said delays are causing further stress for vulnerable patients and worsening their recoveries.
"People who are left waiting longer don't recover as well, and there's a whole plethora of things then that become problematic for the individual, the carers, and the family," she said.
"It's gone straight through to some people committing suicide - it is that serious."
The healthcare trust took over Improving Access to Psychological Therapy services in Leicester in April 2016.
It said the service has "consistently" met its six-week target for referrals to first treatment since July last year, adding recovery rates have improved.
"The trust has made significant improvements to the service offered to patients in Leicester City and the waiting times for this," it said.