Petition calls for Walkers to change plastic crisp packets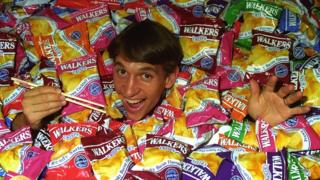 More than 150,000 people have signed a petition calling for Walkers and other crisp manufacturers to make their packets "environmentally-friendly".
It comes after beach cleaning volunteers in Cornwall discovered Walkers packets believed to be from the 1980s and 1990s.
Leicester crisp manufacturer Walkers currently uses metallised plastic.
It said it was committed to making all its packaging 100% recyclable, compostable or biodegradable by 2025.
Geraint Ashcroft, who started the petition, hopes the packaging can be changed sooner than this.
"The problem is now that more and more manufacturers are using the same packaging and not just the crisp industry," he said.
"Let's hope we can get the 2025 date brought forward and get more manufacturers to change their packaging."
He is working in conjunction with Beach Guardian, the beach cleaning group which found the old crisp packets.
It was set up by Rob Stevenson and his daughter Emily, who is in her final year studying marine biology at the University of Plymouth.
Her dissertation is looking at the plastics washed up on the beaches between Newquay and Padstow harbours.
Walkers has previously experimented with crisp packets made from potatoes and wood pulp.
PepsiCo, which owns Walkers, said: "We already have a pilot of compostable bags in one of our markets and are optimistic we will be able to expand its rollout wider in the future.
"We have committed to 100% recyclable, compostable or biodegradable packaging across our product portfolio by 2025, and are collaborating with leaders in this space to bring the latest packaging advances to our products."