Leicester shop explosion: Mother to keep Leah Reek's 'legacy alive'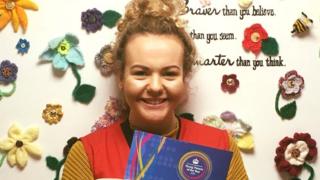 The mother of a "spirited young girl" who was killed in a shop and flat explosion along with four other people is aiming to keep her "legacy alive".
Leah Reek, 18. was at the home of her boyfriend Shane Ragoobeer, 18, who also died in the blast on Hinckley Road, in Leicester, on 25 February.
Joanne Reek said they have raised almost £16,000 for LOROS Hospice where Leah worked as a volunteer.
Ms Reek said Leah was "inspired by LOROS and wanted to make a difference".
Shane's mother Mary Ragoobar, 46, his brother Sean Ragoobeer, 17, and shop worker Viktorija Ijevleva, 22, also died.
Three men accused of causing an explosion have denied arson and manslaughter.
Ms Reek said she wanted to continue to support LOROS by taking part in a Twilight Walk on Saturday in her daughter's memory.
"Leah was passionate about LOROS," she said.
"She loved being a volunteer and always looked out for and cared for other people. We feel that it will do her justice and it will make her proud."
Ms Reek said the 10km charity walk has given her "focus at a very dark time".
"Six weeks ago our lives changed forever and we just need something positive to focus on... I feel Leah drives us forward," she said.
"She was an amazing girl with a heart as big as a lion."
Ms Reek added that the family has been "overwhelmed" by the donations an online fundraising page has received.
Inquests into the deaths of the five victims have been opened and adjourned.