John Donovan death: Teens who 'toasted' victim jailed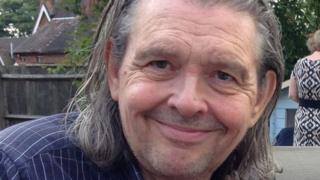 Three teenagers, one of whom "toasted" their injured victim with beer stolen from him, have been jailed for manslaughter.
John Donovan, 64, died 13 days after the attack on King Street, Leicester, on 2 September.
Nottingham Crown Court heard he was kicked to the ground by the gang, who took "evident pride" at their actions.
The boys, aged 14, 15 and 16. who cannot be named due to their age, were sentenced to five years each.
They admitted manslaughter.
Mr Donovan, who had recently retired from Leicester City Council, was chosen by chance when the gang saw him leaving a supermarket.
The court heard they followed him down a quiet road, knocked him to the floor and kicked him on the ground.
Mr Donovan suffered a fractured shoulder and pelvis in the attack.
The court saw CCTV which showed the gang fleeing, then returning minutes later and one member 'toasting' the helpless Mr Donovan with the beer they had stolen.
Mr Donovan was taken to hospital but died from a thrombosis caused by immobility resulting from his injuries.
In an impact statement, his 90-year-old mother, Kathryn, said Mr Donovan "wouldn't hurt a fly" and that she had stayed by his side in hospitals "until the machines stopped beeping".
"How am I supposed to cope with that?" she said.
The Honourable Mr Justice Michael Soole said: "It was a targeted group attack carried out at night on a defenceless victim.
"It involved some premeditation and it was done for gain, paltry as that was."