Leicester shop explosion: Family tributes to victims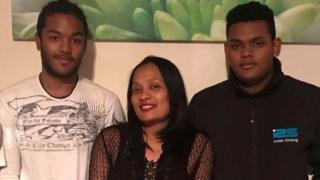 Families of five people who died in an explosion at a shop in Leicester have paid tribute to their loved ones.
Jose Ragoobeer, whose wife Mary and sons Shane and Sean were killed in the blast in Hinckley Road on 25 February, said "every day they will be missed".
Shane's girlfriend Leah Reek and shop worker Viktorija Ijevleva also died.
Ms Reek's family said she was their "beautiful, bubbly baby girl" and Ms Ijevleva's mother said her daughter had a "million plans for life".
Live updates from the East Midlands
Store owner Aram Kurd, 33, Hawkar Hassan, 32, and Arkan Ali, 37, have been charged with arson and manslaughter.
Mr Ragoobeer, who was out of the flat above the shop working at the time of the explosion, said his wife of 22 years was "a hard-working, loving mother and wife who was devoted to her family".
Their youngest son Scotty survived the blast and is out of hospital.
Mr Ragoobeer said Shane, 18, and Sean, 17, were loving sons and "always willing to help family and friends".
He added: "Every day they will all be missed by myself, Scotty and our family and friends. Our lives will never be the same."
Mr Ragoobeer also paid tribute to Ms Reek, 18, who he said was "a lovely girl who brought so much joy and happiness to our home".
Ms Reek's family said: "Words aren't enough to say how completely selfless, kind and caring Leah was. She had a smile that lit up an entire room and she was truly our shining star."
Natalija Ijevleva, the mother of 22-year-old Ms Ijevleva, said: "Of all the mothers in the world, I was the happiest of them all.
"There are very few children like my beautiful Viktorija. We miss her terribly."
Inquests into the deaths of the five victims have been opened and adjourned.