Man 'raped and smothered 72-year-old woman after taking cocaine'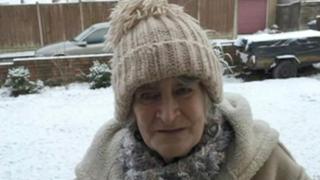 A man raped and murdered a 72-year-old woman by smothering her with a pillow after taking cocaine on a night out, a court has heard.
Craig Keogh, 26, was described as being aggressive by two pub workers, who told jurors he had offered to sell them the drug.
Mr Keogh knew Jane Hings, who lived in the Leicestershire village of Fleckney, because he had walked her dog.
He denies her murder, burglary and two counts of raping her.
Mary Prior, prosecuting, said Mr Keogh went to Ms Hings' bungalow in the early hours of 24 September and she was found dead by two carers later that morning.
In a list of facts agreed by both the prosecution and defence, she described how Ms Hings' body was found in the bedroom of her bungalow.
"They saw that Jane's head appeared to be between the pillows and that she was naked under the quilt," said Mrs Prior.
"She was plainly not breathing."
The carers called an ambulance and attempted to resuscitate her.
When a paramedic arrived he noted Ms Hings was cold to the touch and rigor mortis had already set in.
The jury was told that Mr Keogh had been on a night out in Oadby on the evening of 23 September.
Two members of staff from the Oadby Owl pub told jurors that Mr Keogh seemed to be under the influence of drugs and he had offered to sell cocaine to them.
Kitchen manager Christopher Murphy said he warned Mr Keogh that it was their right to inform police if anyone on the premises had drugs.
"I hoped he might leave the premises and not cause any more aggravation to anyone," said Mr Murphy.
But instead Mr Keogh responded in "an aggressive manner towards the pair of us", he said.
"I believe he said 'I'll swing man's jaw', which I took to mean as punching," said Mr Murphy.
He told the court they warned him again that they would call police, but Mr Keogh responded by saying: "I'm from Fleckney - I've seen a man get shanked."
Mr Murphy said he understood "shank" to mean "stab".
"I believe his words were 'I have a piece' which I took as a weapon," Mr Murphy added.
Aaron Watson, general manager at the pub, described Mr Keogh as being "lairy" and said he was "going up to people, arms out, getting up to people's faces".
In further facts agreed by the prosecution and defence, the jury was told that Mr Keogh's DNA was found on swabs taken from Ms Hings' body and on a tongue piercing bar recovered from her body during a forensic examination.
Mr Keogh bought a new tongue bar after Miss Hings' death, having told a friend he had swallowed his old one.
Mrs Prior told the court Mr Keogh asked the friend to sell some jewellery on his behalf, which he did for £105.
This jewellery was later identified as belonging to Ms Hings by her friends.
Jurors were told Mr Keogh paid for a carvery meal at a pub for him and his friend later that day and a round of drinks for other friends, explaining that he had found £200 in a bag in Leicester city centre.
The prosecution claim he took this money from Ms Hings' handbag, which he allegedly stole after killing her.
"Throughout the day the defendant was described [by his friend] as being happy and laughing," said Ms Prior.
The trial continues.
To discuss an East Midlands story idea, contact caroline.lowbridge@bbc.co.uk.