Leicester explosion: Two arrested on suspicion of conspiracy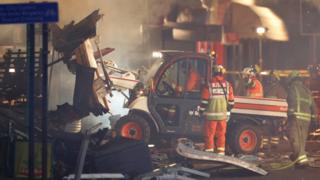 Two men have been arrested by police investigating an explosion in Leicester that killed five people.
The men, in their 30s and from East Anglia, have been arrested on suspicion of conspiracy to cause an explosion.
Three members of the same family died when the shop and flat were destroyed on Sunday.
Three other men, also in their 30s, were arrested on suspicion of manslaughter on Wednesday and continue to be questioned by detectives.
The latest arrests are also on suspicion of offences under the Proceeds of Crime Act.
Police earlier said they wanted to speak to any witnesses who saw people going in and out of the shop in the hours before the blast.
Mary Ragoobar, 46, and sons Shane, 18, and Sean, 17, lived in the flat above the Polish supermarket.
Sean and Shane, along with along with Shane's girlfriend Leah Beth Reek, 18, and Viktorija Ijevleva, 22, who was working in the shop at the time, have now been officially named as among the dead.
The fifth body is still to be formally identified but is believed to be Mary, officers said.
A date for an inquest has yet to be set.
Five people were also taken to hospital after the blast, one of whom suffered critical injuries.
The first three arrested come from East Anglia, the North West and the East Midlands, police confirmed.
Det Insp Michelle Keen said: "It's vital that we speak to anyone who may have information about any people they saw coming and going into the supermarket in Hinckley Road in the hours leading up to the explosion.
"Was there anyone in acting strangely or in a suspicious manner? Did you see any vehicles parked up, or being driving in a strange manner in the area around the supermarket?"
She added: "People lost their lives in the most horrific way on Sunday. We owe it to them to understand the cause of that explosion."
Police said the immediate area surrounding the scene would remain cordoned off for a number of weeks, while safety work was carried out.
Street pastors in Leicester are putting on extra patrols following the explosion and Leicester City Council has opened a residents' support point.