Brush restructure puts up to 270 jobs at risk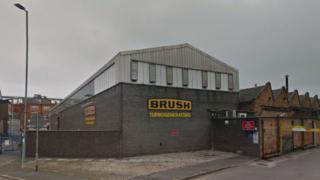 Up to 270 jobs at an engineering firm in Leicestershire are at risk.
The Brush Group has said it plans to reduce its generator manufacturing capacity in Loughborough due to a decline in demand.
The firm has entered into consultation with the workforce about the production of their 2-pole turbo-generator.
Brush's CEO Chris Abbott said Brush had suffered from a "major structural shift" in the market.
"The simple fact is that our 2-pole operation has a critical shortage of orders," he said.
"We must therefore consult on the need to reduce our manufacturing capacity in order to safeguard the long term future of Brush and protect the legacy of one of Britain's longest established manufacturing businesses."
Brush said the decision to restructure its generator manufacturing capacity would not affect its other facilities in Wales and Derbyshire.
'Significant decline'
The firm said it had experienced a fall in demand for its generators because of a "significant decline" in the traditional power markets, "driven by the overall growth in renewables".
Sales at the company peaked in 2012 at 208 units, but fell sharply to 70 sales in 2017. Of those, only 21 were built in Loughborough, the company said.
Mr Abbott added: "Loughborough nevertheless remains at the heart of our after-market operations, which are flourishing, and the transformers unit, which is also performing well.
"We will do our utmost to ensure that the affected employees are supported to the best of our ability and that we find the most favourable outcomes for all concerned."
The Loughborough site, on Nottingham Road, will maintain an engineering team and research and development capabilities, the company said.
Formed in 1879, Brush supplies products to electric power industries both on and offshore. The firm employs 790 people across the UK.
Unite has vowed to fight against any job losses.