Leicester murder accused dragged ex-wife's body through streets in a suitcase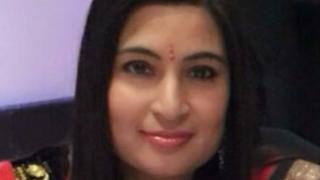 Jurors have been shown CCTV footage of a man dragging a suitcase containing his ex-wife's body through the streets after he allegedly murdered her.
Ashwin Daudia claims Kiran Daudia died because he "lost control" after she started hitting, kicking, shouting and swearing at him.
However, the prosecution said that he deliberately killed his ex-wife then "coolly" disposed of the evidence.
Mr Daudia, 51, of Lyme Road, Leicester, denies murder.
Speaking through a Gujarati interpreter, Mr Daudia told Leicester Crown Court: "I was very angry and I lost control."
William Harbage QC, prosecuting, said: "You did it quite deliberately and then afterwards, very coolly, you disposed of the evidence."
Mr Daudia denied both of these accusations.
The trial has heard how the couple had an arranged marriage in India in 1988 and divorced in 2014.
They continued to live together, but Mr Daudia was meant to move out on 16 January 2017 - the day of his ex-wife's death - as the house had been sold to Ms Daudia's sister.
Mr Harbage said: "The truth is this, isn't it, Mr Daudia? On 16 January you were very angry with Kiran because she was getting the house and you were losing everything. Is that right?"
"Yes," Mr Daudia replied.
He was still in the house when his ex-wife returned home from work that afternoon.
At this point, his account of what happened differs from the version alleged by the prosecution.
He claims he was sleeping upstairs when his ex-wife woke him up and started attacking him and shouting at him. He claims he put one of his hands over her mouth to stop her talking, then put both hands around her throat.
However, the prosecution claims he has invented this story to protect himself - and that he attacked his ex-wife downstairs when she came in from work.
Mr Daudia claims he wrapped his ex-wife's scarf around a banister upstairs, then pushed her "so she was like hung" with her legs going down the stairs.
However, the prosecution claims she died from strangulation because he tightly pulled the ends of the scarf while it was around her neck.
"You deliberately strangled her, didn't you?" asked Mr Harbage.
"I did not do it deliberately," replied Mr Daudia. "At that time my mind was not working."
Mr Daudia claims he hid the body in the suitcase because he did not want to scare their youngest son when he returned home from college.
However, the prosecution said he hid the body to protect himself.
CCTV captured him dragging the suitcase down Lyme Road, where their house was, then around the corner onto Devana Road.
After this, Mr Daudia dragged the suitcase down another road, Cromer Street, where he left it in a passageway between two houses.
The body was found there on 17 January and Mr Daudia was arrested.
He claimed he knew nothing about his ex-wife's death when he was interviewed, but now accepts he lied to police, which he told the court he was "sorry" for.
The trial continues.