Suffragette Alice Hawkins' family praise Leicester statue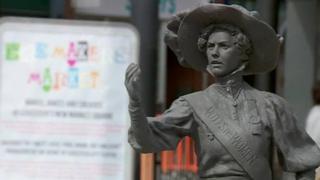 A statue of Suffragette Alice Hawkins, which will be unveiled in Leicester next month, has been praised by her family.
Ms Hawkins, a shoe machinist, was jailed five times for her role leading the Suffragette campaign in Leicester in the early 20th Century.
The £80,000 statue has been funded by a local businessman and will be revealed in the Market Square on 4 February.
Peter Barrett, Ms Hawkins' great-grandson said it was a fitting tribute.
"The design fits the image of Alice ...standing in the Market Place, over 100 years ago, reaching out to hundreds and thousands of people," Mr Barrett said.
"It has been described as a dynamic pose."
The 7ft (2.1m) statue has been made out of bronze and will stand on a 4ft (1.2m) plinth.
It is being unveiled in the centenary week of the passing of the 1918 Representation of the People Act, which first gave women the vote in Britain.
Who was Alice Hawkins?
Ms Hawkins left school in Stafford in 1876 to start work as a shoe machinist, later joining Equity Shoes, which encouraged workers to take part in political activism.
From there she joined the Women's Social and Political Union (WSPU) and was one of 18 women to be jailed when they were charged by mounted police in Hyde Park in February 1907.
After her time in prison, she organised meetings and protests in Leicester, inviting Sylvia Pankhurst and helping form the city's section of the WSPU.
She died in 1946, aged 83, and was buried in an unmarked pauper's grave.