Police release rape films 'to increase convictions'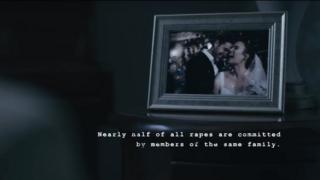 A police force is releasing a series of short films to encourage victims to report rape as soon as possible, in the hope it will increase convictions.
Leicestershire Police estimates that only 20% of rapes are reported to them, and only one in ten of these reports results in a conviction.
However, if rapes are reported earlier, more evidence can be preserved.
The films are being published on social media to reach audiences police might not normally be able to reach.
A previous short film about the murder of 15-year-old Kayleigh Haywood has had "36 million views on social media", the force said.
The first of the rape films would have an 18 certificate if shown in a cinema and features a fictional story about a woman who has been raped by her husband.
The second film shows the events leading up to the rape, and will be posted online at a later date.
Further films are due to be released featuring interviews with up to six rape victims, as well as a video about the Sexual Assault Referral Centre (SARC).
Victim: 'You must come forward'
Police have created the films with the help of rape victims.
One was raped by her former husband, but she did not report it until some time later.
She said: "We went out to a restaurant and he laughed at me across the table and said 'You're my wife, who would believe you if you reported me?'"
Police did believe her, but she was told there was not enough evidence to prosecute.
She encouraged other rape victims to come forward as soon as possible.
"Don't let anybody tell you that you're their wife and you won't be believed," she said.
"You must come forward, it will absolutely play on your mind."
One of the other victims was raped by her friend's partner, who was convicted and jailed for eight years.
"Before his car was even barely out of my street I was on the phone to the police," she said.
"The first thing you want to do is get in a bath and rid yourself of anything to do with your attacker, but by doing that you are letting them keep that control.
"My attacker had control for three minutes, max. That's all I'm letting him have.
"Now he's sitting in a prison cell and I'm able to get on with my life."
Andrew Baxter, a deputy chief crown prosecutor for the East Midlands, decided to support the release of the films after being given a preview.
"I thought the films were very powerful and were almost a fresh way of looking at some of the issues," he said.
"I haven't seen that before in many, many years of prosecuting and I felt very excited about that methodology used and the messages that are clearly going to be communicated."