Nikki Love completes 63 marathons in 63 days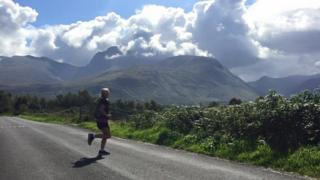 A woman has completed her attempt to run 63 marathons in 63 days and hopes to have her achievement recognised as a world record.
Nikki Love, 50, from Leicester, started her feat at John O' Groats on 27 August and finished in Leicestershire's Swithland Wood on Saturday.
She hopes to have beaten the existing record of 60 consecutive marathon distances run by a woman.
The challenge has also raised money for the Huntington's Disease Association.
"It's been tough and amazing," she said.
"It's been an adventure and a challenge, which is what I wanted."
Ms Love, who is originally from Australia, was joined on one of the marathons by her friend Dirk Vervoorts, who himself suffers from Huntingdon's Disease.
"It's an inherited condition which damages certain nerve cells in the brain, progressively limiting the ability to carry out everyday tasks," she said.
"Dirk joined me on the Nottingham marathon and I expected him to only do a small part, but he stuck with it till the end. That was inspiring."
Rather than run a straight line from John O' Groats to Lands End, Ms Love criss-crossed Britain visiting "all the places I wanted to go".
This included Keswick, the Peak District, St Ives, Brighton and London.
"There were some areas we decided not to go because the terrain was too much but we did the Brecons," she said.
"Probably the most stunning was the Highlands of Scotland."
She has been recording her highs and lows on social media.
Ms Love and her team have been in touch with Guinness during the challenge and will be sending their results for ratification in the coming days.