Leicester Diwali switch-on attracts 'rainbow of crowds'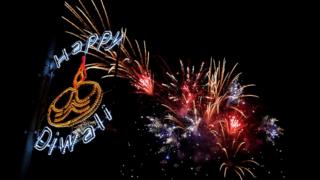 About 40,000 people have watched a "very vibrant and colourful" show for the annual Diwali lights switch-on in Leicester.
The celebrations, with music and dance on the city's Golden Mile, at Belgrave Road on Sunday, ended with a firework display.
One woman, who went for the first time, said it made a "big impression".
Leicester's Diwali celebrations are thought to be one of the largest outside India.
More stories from the East Midlands
The celebration, which saw more than 6,000 lights turned on, marked the start of two weeks of events across the city.
During the day, the story behind Diwali was told through animation, kung fu and traditional dance.
An outdoor theatre performance of Ramayana - telling the story of light over darkness - took place at Cossington Recreational Ground.
Jiten Anand, from Indian Summer Festival, which was behind the production, said: "The festival is an opportunity to try new things out and a platform for the next generation of artists."
He added the street celebrations had taken place in Leicester "for more than a couple of decades now".
One man said a "rainbow of crowds" filled the streets to enjoy traditional food and meeting family and friends.
Another woman told BBC Radio Leicester: "It's not Diwali if you don't come to the Leicester switch-on."
Known as the festival of light, Diwali is celebrated by Hindus, Sikhs and Jains on 19 October.
It is one of the most significant cultural events for these communities and celebrates the victory of good over evil.