Leicester teen tries to hack CIA and FBI chiefs' computers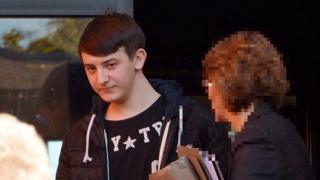 A teenager attempted to hack senior US government officials' computers from his home.
Kane Gamble, 18, from Coalville, Leicestershire, pleaded guilty to 10 charges relating to computer hacking.
His targets included the then CIA director John Brennan and former FBI deputy director Mark Giuliano.
Following the hearing at Leicester Crown Court, Gamble was released on bail and will be sentenced in December.
The teenager admitted to eight charges of "performing a function with intent to secure unauthorised access" to the computers and two of "unauthorised modification of computer material".
Reports at the time said a British teenager had infiltrated the personal email account of Mr Brennan and posted details online.
Leicester Crown Court heard that Barack Obama's deputy national security adviser Avril Haines and his senior science and technology adviser John Holdren were also targets.
Gamble, of Linford Crescent, will be sentenced at Leicester Crown Court on 15 December.
Charges
Gamble was accused of "causing a computer to perform a function to secure unauthorised access to a program or data held in computers" belonging to Mr Brennan between 1 June and 30 October 2015.
The teenager attempted to gain unauthorised access to the computer of the then US Secretary of Homeland Security Jeh Johnson between 4 July and 22 October 2015.
On 17 October, 2015, Gamble tried to access the computer of Ms Haines.
Between 18 October and Christmas Day 2015 Gamble targeted FBI Special Agent Amy Hess.
The teenager attempted to gain access to the computer of Mr Giuliano between 29 October and 16 November.
Gamble tried to hack into an FBI portal between 2 November and 22 November 2015.
Gamble targeted a Comcast account operated by James Clapper, director of National Intelligence under President Obama, between 4 January and 12 January 2016.
Between 5 January and 18 January 2016, he tried to gain access to the computer of Vonna Weir Heaton, the former intelligence executive of the US National Geospatial Intelligence Agency.
Between 17 January and 20 January 2016, Gamble targeted a Comcast account operated by Mr Holdren.
The final charge involved an attempt to gain access to the US Department of Justice's network between 26 January and 4 February 2016.