Patricia Rosen death: Care home nurse struck off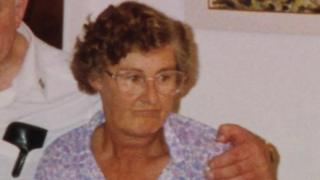 An agency nurse who accidentally gave a massive overdose to a 78-year-old care home resident has been struck off.
Patricia Rosen was given 16 times the routine dose of a painkiller meant for another resident also called Patricia, an inquest was told in November.
She died just hours after arriving at Cedar Court in Wigston, Leicestershire, on 18 February 2013.
The Nursing and Midwifery Council found Mariana Birsasteanu's actions "caused or contributed to" Mrs Rosen's death.
Live updates and other news in the East Midlands
The inquest at Leicester Coroner's Court had heard nurse Ms Birsesteanu was left in charge of more than 50 patients the night Mrs Rosen was given the fatal dosage.
The court was told she discovered her error in administering the drugs the following morning, but left the home without telling another member of staff.
Ms Birsasteanu told the panel that she had found the home's medication procedures difficult and had tried to contact a member of staff after realising her mistake, but could not find anyone and left because she was "stressed".
She also said the council should have carried out a more thorough inquiry and told the panel the investigations after Mrs Rosen's death were a "nightmare" which had "destroyed" her life and career.
The panel concluded that, despite the nurse's "regret" for Mrs Rosen's family, she had not shown true remorse and had focused on her own plight.
It said removing her name from the register was the only possible sanction for her misconduct.
Following the inquest, Mrs Rosen's family had said her death was "wholly avoidable".
Procedures at the care home have since changed.
Police investigated the death, but the Crown Prosecution Service decided not to bring any charges.