Holidaymaker died from neck injuries on 'inflatable sofa' ride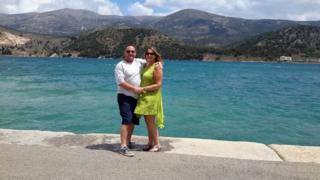 A man died from neck injuries while riding an inflatable "sofa dinghy" during a holiday, an inquest has heard.
Simon Crewe, 57, from Whetstone, Leicestershire, was one of three men on the ride being towed by a speedboat in Kefalonia, Greece, on 23 May.
The inquest at Leicester Town Hall was told one of the men was thrown into the air before hitting Mr Crewe, who was later found unresponsive.
Coroner Catherine Mason recorded a narrative verdict.
She said: "During the ride one of the other participants catapulted in the air and then impacted with Mr Crewe.
"As a result of the impact, Mr Crewe sustained fatal neck injuries."
In May, Mr Crewe's partner Vicki Hewitt told the BBC she was in the speedboat which was pulling him and two other men along.
She said: "After about 30 seconds we saw one of them being catapulted about 10 foot into the air."
She said she desperately gave Mr Crewe mouth-to-mouth resuscitation but he never regained consciousness.
Ms Hewitt said Mr Crewe were together for four-and-a-half years and he was "the love of my life".
"The only blessing was he had a fantastic holiday and he knew nothing at all about it [the accident]," she said.
"While he was on the sofa he was saying to both of them, 'this is great I love it'."