North Luffenham army base could be 'garden village'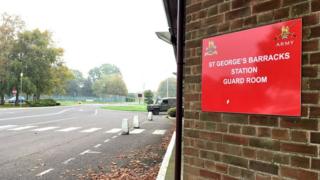 Plans to redevelop an army base earmarked for closure into a "garden village" have been revealed.
St George's Barracks, in North Luffenham, Rutland, are due to close by 2021 and be sold as part of a review of Ministry of Defence (MoD) land.
The site could be transformed to include homes and leisure facilities.
Rutland County Council and the MoD said they would produce a master plan for the St George's project in the next two years.
More on this story and others from the East Midlands
Councillor Toby Mathias, leader of Rutland County Council, said the impact of the closure would be "significant" but added the plans should bring benefits to the area.
"We see it as a garden village so it will be quality and not quantity, [with] plenty of recreational space," he said.
The project is expected to take 10 to 15 years to complete and a formal consultation will take place once plans are developed further.
The site, which is 300 hectares in size - equivalent to about 400 football pitches - is a base for 700 deployable soldiers.
Robert Stone, the MoD's head of estates, said the site was "built for previous generations of war-fighting", but would be used to "benefit surrounding communities".
Defence estate review
£4bn
to be spent refurbishing bases
32,500 acres of defence land to be released

£140m savings in reduced running costs over 10 years

55,000 new homes will be built on the land
AFP
It is estimated about £140m will be saved over the next decade by selling off 91 defence sites.
More than 32,000 acres of defence land will be released, including 10 surplus airfields and five golf courses, to build 55,000 homes and other forms of development.