'Elephant Man' Joseph Merrick letter in Leicester display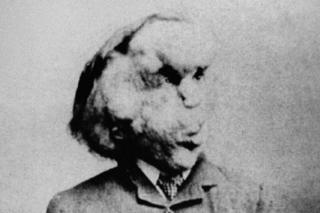 The only known surviving letter from Joseph Merrick, known as the Elephant Man, has gone on display.
The letter was written to a young widow called Leila Maturin, who was said to have been the first woman to smile at him and shake his hand.
They kept in touch and in the letter he thanks her for some grouse and a book.
It is on show at the Record Office for Leicestershire, Leicester and Rutland, in his home city of Leicester, to mark its 70th anniversary.
Joseph Merrick's letter to young widow
Dear Miss Maturin
Many thanks indeed for the grouse and the book, you so kindly sent me, the grouse were splendid. I saw Mr Treves on Sunday. He said I was to give his best respects to you.
With much gratitude I am Yours Truly
Joseph Merrick, London Hospital, Whitechapel
Joseph Carey Merrick had a normal appearance when he was born in Leicester on 5 August 1862.
However, he began to develop abnormal bone and skin growths during the first few years of his life.
After being at Leicester Union Workhouse for four years he had the idea of exhibiting himself and contacted an agent called Sam Torr.
While being shown in a shop in London he met a surgeon from the London Hospital called Frederick Treves, who is referred to in the letter as "Mr Treves".
Mr Treves later arranged for Mr Merrick to be treated at the London Hospital, where he remained for the rest of his life and from where he wrote the letter.
Mr Treves is said to have arranged the meeting with Leila Maturin, a close friend of his, in order to give Mr Merrick confidence after other women had shown him revulsion.
Mr Merrick's condition deteriorated and he died on 11 April 1890 at the age of 27. The cause of his death was given as asphyxia with the weight of his head a contributory factor.
His skeleton is kept in a private room at Queen Mary University of London's medical school, but there have been calls to give him a Christian burial in Leicester.
The precise cause of his deformities is still unknown.