Rape DNA swab kit could 'help millions of victims' worldwide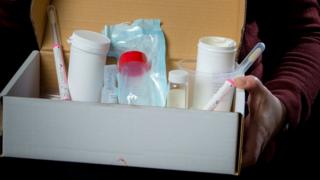 British researchers say they are developing a self-examination swab that will make it easier to catch rapists around the world.
The device, described as "a tampon-like applicator with a DNA swab inside it" comes from research led by the University of Leicester.
It is mostly intended for use by rape victims in war zones and refugee camps.
The swab allows victims to recover DNA from their attackers without having to undergo a medical examination.
Millions of victims
Project leader Dr Lisa Smith from the University of Leicester said limited access to equipment and expertise make recovering DNA evidence difficult in the developing world.
"Where the assailant is not known to victim, it is essential that we get the evidence in the first place," she said.
In tests with volunteer couples, researchers found that a genetic signature matching a specific male could be recovered 32 hours after sexual intercourse.
She explained the device includes a tampon-like applicator containing a swab "optimised for gathering DNA evidence".
She said: "The next step is to finalise the design of the swabs - we are working with industry partners.
More news from the East Midlands
"Then there will be further validation and testing, and also field testing.
"We hope these kits will help bring justice to potentially millions of victims globally ... to help empower women to prosecute crimes and hopefully prevent them occurring in the future."
While most rapes in the UK were domestic crimes, the reverse was true in war zones and developing countries, said the researchers.
The researchers will travel to Kenya later this year to introduce the swab to a number of stakeholders including police officers, prosecutors, NGOs and survivors of sexual violence.
The first kits could be available for field testing in high-risk areas next year.