Ball bearings fired at Next and dozens of windows in Leicestershire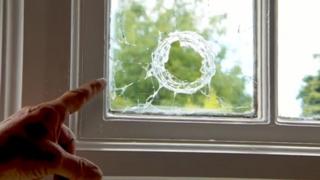 Vandals catapulted ball bearings, damaging more than 40 cars and property windows in a few hours, police said.
Police said the offenders "fired substantial bearings with power" as they drove around Leicester and Leicestershire on Monday evening.
Retailer Next had three large windows smashed at its headquarters in Enderby.
Det Insp Mark Parish said the vandals could have "easily hurt somebody". He said police would not "tolerate thoughtless vandalism".
Reports were made in areas including Leicester, Newbold Verdon, Enderby, Glenfield, Braunstone, Whetstone, Leicester Forest East and Blaby.
Sue and Jim Lapworth discovered a hole in the window of their home on Hinckley Road in Leicester Forest East.
Mrs Lapworth said: "There was an almighty bang and we both thought it was a picture that had dropped off the wall or the shower that had fallen into the bath."
The couple said the officer who attended believed the bearing was fired metres away from the house.
Det Insp Parish said the bearings were about 1cm in size.
"They were quite substantial bearings and could have quite easily hurt somebody because of the power they were fired.
"We suspect they [vandals] were driving around firing out from a catapult at cars and properties.
"This type of thoughtless vandalism will not be tolerated.
"Those responsible have caused many thousands of pounds worth of damage over the space of a couple of hours."
Mr Parish has urged anyone with relevant CCTV or dashcam footage to contact the force and urged victims to report it.
The force added that it was investigating the similarities between the attacks to establish if they are linked.