War hero set to be honoured with memorial stone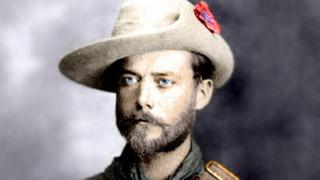 A memorial to a "secretive and reclusive" soldier, who had been buried in an unmarked grave, is set to be unveiled.
Sharrad Gilbert, who died aged 93 in 1961, served in the Leicestershire Regiment for 34 years.
He saw active service in both the Second Boer War and First World War.
Campaigners in Burbage, where Gilbert lived after leaving the army, wanted a memorial to honour his service to the country and local community.
Mr Gilbert joined the army in 1899 and fought the Boers in South Africa for 15 months before being captured in Rhodesia.
He managed to escape with some other prisoners by overpowering their guards and later served in France during the First World War before leaving the military in 1921.
He then worked for the Conservative Association in Burbage, acting as the social club steward and editing their newsletter.
He lived the final years of his life as a recluse, dying in 1961 after falling into a fire at his home and suffering fatal burns.
---
'The reclusive soldier'
Sharrad Gilbert had no children and became a widower in 1940.
He lost his sight and also became deaf in his later years.
After his death, no instructions were left for a headstone.
---
Burbage Heritage Group said it had chosen a cairn to honour Mr Gilbert, as that was what was used to remember soldiers who died in the Boer conflict.
It will sit on his previously unmarked grave at St Catherine's and be unveiled by Lady Gretton, Lord Lieutenant of Leicestershire.