Leicester fire destroys cars, lorries and buildings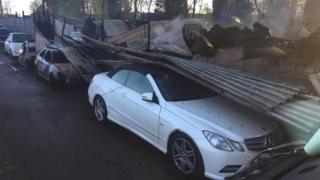 Several buildings and more than a dozen vehicles have been destroyed in a fire on an industrial estate.
Crews were called to Sunningdale Road, Leicester, shortly before 03:00 BST.
Brick and corrugated steel buildings, cylinders, two large goods vehicles and about 12 cars were damaged across an area of approximately 100m x 50m.
There are no reports of any injuries and investigations into the cause are under way. Some roads closed during the fire had reopened.
One crew was still at the scene at 07:30.