Nadine Ledwith stole from Leicester Montrose Primary School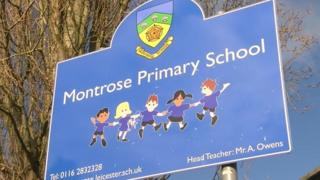 A teaching assistant has been given a suspended sentence after admitting stealing cash from her own school.
Nadine Ledwith, 46, stole £3,384 raised by families and staff at Montrose Primary School in Leicester between October 2013 and March 2015.
Headteacher Andy Owens said the thefts were "upsetting" and the community was "badly let down by her actions".
She received a 26-week jail-term suspended for 18 months at Leicester Magistrates' Court.
Ledwith, who was a treasurer of the school's parent-teacher association, was also ordered to pay the full amount back to the school.
More on this story and other news in Leicestershire
Ledwith, of Saffron Lane, Leicester, was sacked after the theft was discovered.
Her defence told the court: "She's in financial debt and is very ashamed about what she's done.
"She's not coping well and wants to pay all the money back."
In a statement, Mr Owens said: "Many members of the school community placed their trust in Nadine Ledwith and were badly let down by her actions which placed herself first and gave no thought to others.
"At a time when all schools are suffering from rapidly diminishing budgets, it is particularly upsetting that money that had been raised for the children in school, has been stolen.
"To raise the amount of money stolen takes a long time. It relies on large numbers of children and adults giving up their time."