NHS clot misdiagnosis widower awarded six-figure sum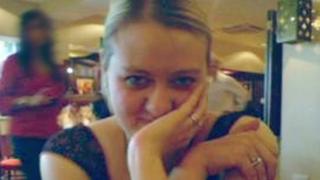 A man whose wife died after a blood clot was missed has been awarded a six-figure sum after a hospital admitted it was to blame for her death.
Alison Taylor, 29, from Syston, Leicestershire, died days after giving birth in March 2010.
She was sent to Leicester Royal Infirmary but no ultrasound scan was available at weekends and she was told her leg pain was most likely cramp.
The trust apologised and said services had been overhauled and extended.
At an inquest in 2011, a coroner recorded a narrative verdict, saying she died from a pulmonary embolism originating from a deep vein thrombosis.
Updates on this story and more from Leicestershire
Mr Taylor, who was left to bring up his three children, said: "It's been a long time coming. If they had done what they were supposed to do, Alison should be here now.
His solicitor, Mehmooda Duke, said: "This case shows how hard we have to work as lawyers to try and prove what went wrong, especially when the hospital defends the indefensible, especially in light of the inquest in 2011."
John Adler, chief executive of University Hospitals of Leicester NHS Trust, apologised by letter to Mr Taylor in December.
It took a further month to agree the compensation figure, which has not been revealed.
The trust said in a statement: "(Mrs Taylor's) death was tragic, and we again extend our heartfelt condolences to Mr Taylor and his family for their loss.
"Since Alison's death obstetric practice has changed significantly, and nationally all units will have a heightened awareness of the potential seriousness of DVT in pregnant and post-pregnant women."
Mrs Taylor died 16 days after giving birth to her third child on 15 March 2010.
Mr Taylor said she had also gone to a GP twice, but each time doctors thought she had muscle pain.
The trust has since changed the way a potential blood clot is assessed in maternity patients and ultrasound scans are now available seven days a week.