Rutland house fire death 'terrible tragedy'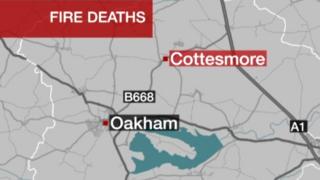 A person who was trapped inside a house fire has died in a "terrible tragedy", the fire service has said.
Four fire crews tackled the blaze in the early hours of this morning at a property in Cottesmore, Rutland.
Leicestershire Fire and Rescue Service said the person was rescued, but later died in hospital.
"At this time, we have not been able to establish if the premises contained working smoke detectors," the fire service said.
"We are fortunate that this type of tragedy happens very infrequently."
The cause of the fire is being investigated by the service and Leicestershire Police.