Wheelie bin race raises money in memory of Jack Patrick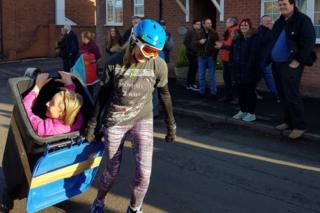 A race where competitors are pulled between two pubs in wheelie bins has raised money in memory of a man who died from a rare disease.
Jack Patrick was a supporter of Help for Heroes, and his friends and family have continued to raise funds since his death in November 2015 aged 20.
The annual Boxing Day wheelie bin race in Bruntingthorpe, Leicestershire, has been renamed the Jack Patrick Trophy.
More than 200 people went along to watch eight pairs of competitors.
They raced from The Plough to The Joiner's Arms, where they had a drink, then raced back to the other pub.
Daniel Grundy, landlord and owner of The Plough, said a few people fell out of the bins.
"We had a couple of casualties but nothing serious," he said.
"It sounds quite easy but it isn't."
The total distance is about 0.3 miles (0.5km) and the route involves several inclines.
Despite this, the quickest men's time this year was only two minutes and 45 seconds, achieved by Nigel Green and Matt Kelly.
The quickest women's time was four minutes 30 seconds, and was achieved by Sharon Catherall and Kate Gutteridge.