Sham marriage gang jailed for bringing 'fake' partners from Hungary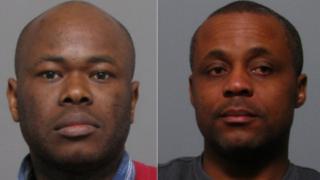 Two men who orchestrated a series of sham marriages have been sentenced to a total of nine years in jail.
They were two of five people sentenced for an immigration scam organised through an internet café in Leicester.
They paid strangers to fly to the UK for the fake weddings.
Leicester Crown Court heard that Martins Okoko, 31, a Nigerian national, and Wilson Odume, 45, a Cameroonian national, set up the marriages to bypass immigration rules.
The marriages took place in Gretna and Leicester between 2007 and 2012.
Odume, of Aikman Ave, Leicester, had taken part in a fake marriage of his own in order to gain residency in the UK.
£3,000 per marriage
The pair were caught following an investigation by Immigration Enforcement Criminal Investigations officers following a tip-off that Okoko was arranging sham marriages from Ausimat, a shop he ran in Woodgate, Leicester.
There were also separate reports from registrars in Gretna, Scotland, of suspicious marriages involving individuals from the Leicester area.
Investigators found that Okoko, of Loughborough Road, Leicester, and Odume had sourced fake Hungarian "brides" and "grooms" for fake weddings, including Odume's own.
The weddings were later used as the basis for applications for leave to remain in the UK, and the pair produced and supplied fake paperwork such as payslips and employer letters to support these applications.
They charged at least £3,000 for the sham marriages.
Odume was jailed for five years and Okoko for four years for assisting unlawful immigration after a six-week trial at Leicester Crown Court.
Two fake brides and a fake groom involved in the weddings were also sentenced for conspiracy to assist unlawful immigration.