UK Championship: Snooker prize money email sent to wrong player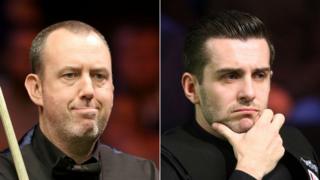 Snooker officials were left pink with embarrassment when they sent notification of £165,750 prize money to the wrong player.
Mark Selby won the UK Championship on Sunday and earned himself the winnings.
But Mark Williams, who got to the quarter finals, tweeted he had a "nice little bonus" after being sent a message saying he would get the money.
World Snooker said the alert was an error and no actual money was sent and Williams was "having some fun."
The Jester from Leicester Selby took the title in a thrilling final in York against Ronnie O'Sullivan.
But Williams, from Cwm, Blaenau Gwent, was green with envy when he received an email which said: "Dear Mark, UKChampionship 2016, we advise that the prize money for the above event will be in your account on the Friday 9th December".
He put an image of the message on Twitter saying: "This was a nice little bonus for me off @WorldSnooker1", adding the hash-tag "ithoughtibeatronnieaswell".
A spokesman for World Snooker said the notification was an administrative error and the funds went to the intended recipient.
He said: "I'm sure Mark Williams realised straight away what had happened.
"But being a colourful character he has run with it and is clearly having some fun."