Leicestershire fatal glider crash: Aircraft 'fell from the sky'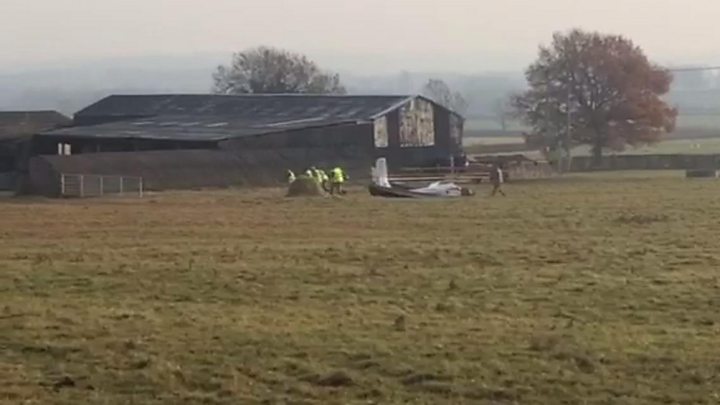 An eyewitness has described the moment a glider "fell from the sky" and crashed into a field, killing its pilot.
The man, who has not been named, died at the scene near Lubenham, Leicestershire, at about 13:00 GMT on Sunday.
Police believe the glider was in a mid-air collision with a light aircraft.
Melvyn Foreman, who was nearby, said he thought the glider was a toy when he saw it plummet towards the earth.
He said: "I saw a lot of aerial activity earlier on and I assumed it was model aircraft so I didn't take much notice of it.
"I then saw one falling from the sky. When I saw the air ambulance and the aeroplane in pieces on the floor I was quite shocked.
"I didn't realise the gravity of situation at first. I assumed it was a model aircraft."
Pete Stratten, chief executive of British Gliding Association, said fatal glider accidents were "very rare".
He said: "It's pretty unusual. Pilots are trained to keep a really good look out and they also have equipment to look into the right area.
"It was a beautiful day for flying and there was a lot going on across the UK. It's difficult to say whether the [low] sun was an issue.
"[The man] was a very competent pilot and very highly thought of."
He said the glider's data recorder should be able to reveal what happened "fairly quickly".
The Gliding Centre at Husbands Bosworth has confirmed the pilot was one of its members.
The light aircraft, which police believe was involved in the collision, went on to land safely near Market Harborough.
Investigators removed the glider wreckage from the scene earlier on Monday.
The police are involved in a joint investigation with the Air Accidents Investigation Branch.