Leicester City's Riyad Mahrez surprises viral video kids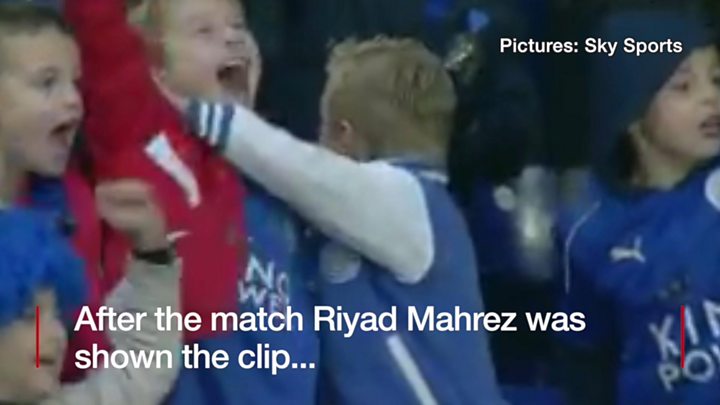 Four primary school children whose wild goal celebrations went viral have had a surprise visit from one of their Premier League heroes.
Footage of the boys before, during and after the equalising penalty, was shared after Saturday's game at Leicester's King Power Stadium.
Riyad Mahrez, carrying the Premier League Trophy, visited pupils at Tugby Church of England Primary School.
One of the boys, Liam Letts, said: "I was so amazed".
Leicester City fans were put through a nail-biting match with the team twice having to come back from a goal down against Middlesbrough.
Both Leicester goals were penalties - always a moment of high drama for fans.
TV cameras captured the group of seven-year-olds going from anxiety to ecstasy as the first goal was scored.
This was shared thousands of times on social media and the club decided to follow it up with a surprise visit to the boys' school.
Mr Mahrez went to the school with the Premier League trophy, which the club won against the odds last season.
Liam Letts said: "I've seen things like this on TV but it has never happened to me, I was so happy.
"I was amazed, I always wanted to see him close and he was here live."
Alice Squires, the class teacher, said: "The children were absolutely thrilled and couldn't believe their eyes to see their hero.
"He was brilliant with the children and made even the most nervous relaxed."