Sons of Savenaca Koroibulileka enjoy Twickenham mascot honour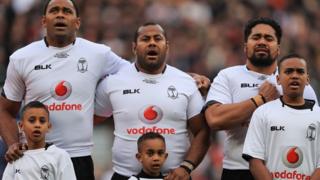 Three young sons of a British soldier who died while playing rugby union appeared as mascots for the Fiji-England autumn international match at Twickenham.
Savenaca Koroibulileka, 38, collapsed while playing in Rutland on 24 September. He died later in hospital.
His sons were invited to be mascots for the Fijian team on Saturday.
Inoke, 13, Viliame, eight, and Orisi, seven, took to the pitch with players before the game kicked off.
A fourth son, four-year-old Kelepi, was too young to be a mascot but watched at the stadium with his mother Ilivema.
England RFU provided a full kit for the three boys, which they will keep.
Fijian-born Savenaca collapsed while playing for Oakham RFC against West Bridgford at Rutland Showground.
Barbara Crelin, who was a first aider at the game, said: "Seven minutes into the second half he scored a try and then collapsed during the conversion."
Savenaca, known as Koro, Savy or Tu, was serving with the Military Provost Guard Service at North Luffenham in Rutland.
The father-of-four was a former private in the 2nd Battalion, Royal Anglian Regiment. His cause of death has not yet been revealed.