Leicester hospitals trust stands down 'major incident' alert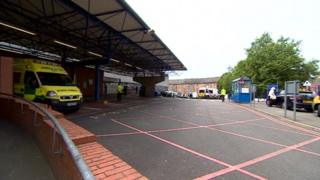 A hospital trust has stood down a "major internal incident" caused by a surge of emergency admissions.
A spokesman for Leicester's University Hospitals Trust said the hospitals were "back to business" but still "incredibly busy".
The incident, declared when hospitals face high demand for beds, lasted from Tuesday until Friday afternoon.
During the alert, some patients had to wait in ambulances up to two hours, the Health Service Journal reported.
"We have had a very busy week, some days seeing over 700 emergency patients," trust medical director Andrew Furlong said, adding the hospital sees about 400 on a normal day.
"This has inevitably put the health system under strain and we are working with our colleagues across health and social care to address this.
"Managing this situation as an internal major incident has enabled us to focus our efforts and deploy more resources.
"The situation remains difficult, especially in our children's service."
A leaked memo said: "The trust has taken measures to improve its patient flow, including cancelling elective activity across its children's wards to 'free up' clinical staff to help in emergency care."
The hospital appealed to patients not to use the Accident and Emergency department "unless it is a genuine emergency".
A hospital spokesman said it was rare to declare an "internal incident" but it happened about one or two times a year, usually during the busy winter period.
The trust runs Glenfield Hospital, Leicester General and Leicester Royal Infirmary, which operates the accident and emergency unit.