Architect Joseph Goddard's designs donated to temple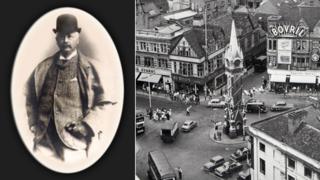 The family of a Victorian architect who designed some of Leicester's most famous landmarks have handed over his archives to a Hindu temple.
Joseph Goddard designed the Clock Tower in 1868 and the old Midland Bank building on Granby Street in 1872.
More than 100 artefacts, some a 160-years-old, have been donated to the International Society for Krishna Consciousness (ISKCON).
It said his "amazing contribution" of designs will go on display.
Updates on this story and more from Leicestershire
Great grandchild Tony Goddard, also an architect, said: "The Goddard family are delighted that the archive of their papers and drawings, a record of the family's architectural endeavours over the past 160 years, are to finally find a long term home in one of Joseph Goddard's best known buildings."
ISKCON, which took over the ownership of the Gothic-style former bank building in 2011, converted it into the Hare Krishna Temple.
Pradyumna Pradipgajjar, of ISKCON Leicester, said: "We thought let's create a heritage room dedicated to the work of Joseph Goddard, so the public can learn about his amazing contribution."
The Grade II listed building, which is on Historic England's heritage at risk register, is used as a place of worship with a range of community activities and workshops and a restaurant.
---
Joseph Goddard
Mr Goddard, born in 1840, often worked in a Gothic-style in the 1860s and '70s
He played an important part in introducing Victorian gothic to Leicester in his design of the Clock Tower
The old Midland Bank building, which opened in 1874, marked the high point and end of his use of Gothic for secular work
He later designed banks in a more restrained domestic revival and Queen Ann-style
Source: University of Leicester
---