Billesdon man dies in Bolivia after sinking into 'boiling mud'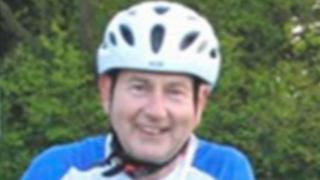 A man died after sinking into "boiling mud" in Bolivia when he went to take photographs of a nearby geyser.
Friends of Rod Keates said the 71-year-old was on a walking expedition on Saturday when he "stepped into the mud" and was "badly burnt".
Mr Keates, from Billesdon in Leicestershire, was rescued and put in an ambulance but died on the way to hospital.
Mr Keates's death has been called a "tragic accident".
Updates on this story and more from Leicestershire
Close friend David Mills, 71, said Mr Keates left behind a wife, three daughters and five grandchildren.
"This has come as a terrible shock to all his friends," Mr Mills said. "He was a great family man."
Mr Keates, a former magistrate, was described as a keen sportsman and traveller who had visited South America prior to the three-week expedition.
Friend and neighbour Peter Bruning, 72, said he felt "shattered" after hearing of Mr Keates's death.
"He was a great father - he was adored by his family," he said. "It's the cutting short of a life that had several chapters left to run. We shall miss Rod."
A spokeswoman for the Foreign Office said: "We are providing support to the family of a British national following a death in Bolivia."
---
Geysers
A geyser is a vent in the Earth's surface that periodically ejects a column of hot water and steam
The word "geyser" is derived from the Icelandic word "geysir", which means gusher
There are two main types of geyser - fountain and cone geysers
There are very few countries with geysers and their occurrence is rare due to the specific conditions that are required for them to form
They are often located near bubbling waters, craters and mud pools
Sources: Geology.com/National Park Service/The Encyclopaedia of New Zealand
---