Emma-Jayne Magson guilty over steak knife murder in Leicester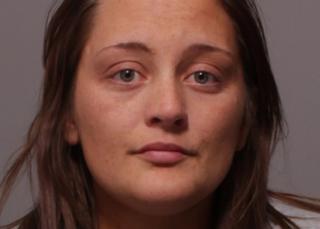 A woman has been found guilty of the murder of her partner after stabbing him in his chest with a steak knife.
Emma-Jayne Magson, 23, of Sylvan Road, Leicester, killed James Knight, 26, during the early hours of 27 March following a "drunken row".
Leicester Crown Court was told the pair had a volatile six-month relationship.
Police said Magson, who will be sentenced on Monday, could have saved Mr Knight's life had she called for an ambulance sooner.
The prosecution said Magson was "cold" and "manipulative" and delayed getting Mr Knight help after she attacked him.
Mr Knight's brother Kevin helped lift him into her house and placed him on the floor, without realising he had a fatal stab injury.
She told him he had been beaten up while out drinking.
The jury heard that he was then "ushered away" by Magson.
The court was played a 999 call she made some time after she stabbed Mr Knight, saying he had collapsed.
However, she failed to mention he had been stabbed.
When told an ambulance might be delayed, Magson replied: "No, that's fine, don't worry about it."
She later claimed in a statement she stabbed Mr Knight in an act of self-defence but refused to give evidence during the trial.
Det Insp Shaun Orton, who led the investigation, said: "It has been incredibly difficult for James's family to sit through the trial and hear how she lied, was deceitful and sat back and watched him die.
"If she had picked up the phone to the ambulance service earlier and been truthful about his injuries he may have still been here today."
Mr Knight's family said in a statement: "The heart ache and pain James suffered will never go away, neither will the pain for those of us left behind."