Leicester RE teacher banned over anti-Islamic views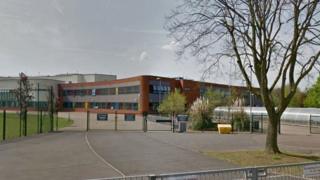 A RE teacher has been struck off for expressing anti-Islamic views and attending a far right march while off sick.
Nicholas Hall, 53, faced a professional conduct panel following a number of allegations while teaching at Soar Valley College, Leicester.
He was also found guilty of allowing pupils to watch an 18 certificate film.
Hall has since been banned from teaching "indefinitely" at any school in England.
'Vociferous attack'
Hall, who had been at the college for 15-years, admitted posting anti-Islamic messages on social media.
One comment highlighted by the National College for Teaching and Leadership panel stated "what a sick religion Islam is" and "we will leave them alone when the plague of Islam is [eradicated] from our planet […]"
The panel said the messages demonstrated a "vociferous attack on the Islamic faith".
However, an allegation over whether he expressed anti-Islamic views to a colleague was not proven.
'Feigned illness'
Hall admitted attending a march organised by Britain First, a far right group.
He also admitted to allowing a group of year 8 pupils to watch an 18 certificate film which was of a "sexual nature" and contained swearing and a reference to drug use.
It was also proven the 53 year old accessed a number of pornographic websites on a college laptop in July 2012.
An allegation that Mr Hall feigned illness while a teacher in order to carry out security work in 2014 and 2015 was also upheld.
The panel said it found no evidence of any insight or remorse from Mr Hall in respect of his actions.
Hall, who was not at the meeting, has been prohibited from teaching indefinitely.