Emma-Jayne Magson murder trial hears of 'blind panic'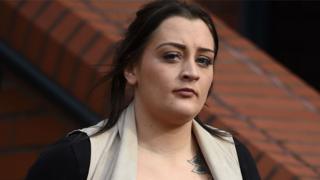 A woman on trial for murdering her "Jekyll and Hyde" boyfriend stabbed him in a "blind panic", a court has heard.
Emma-Jayne Magson, 23, of Leicester, has denied murdering James Knight, 26, in the early hours of 27 March.
Her defence told Leicester Crown Court Mr Knight was strangling Ms Magson and her actions had been in self defence.
It was also claimed the jury had been presented with an "unfinished jigsaw puzzle" by prosecutors, who said Ms Magson stabbed Mr Knight in anger.
The court was told the pair had a volatile six-month relationship and had been seen arguing in a bar and taxi before the stabbing at Ms Magson's house in Sylvan Street, Leicester.
In his closing speech on Tuesday, James House QC, defending, said there were "significant gaps" in the prosecution's claim his client was "cold, brutal, manipulative, calculating and vicious".
"She used a single stab to get him off in a blind panic while being strangled," he said.
"It all fits with her statement, 'I didn't mean to harm him, I just wanted to get him off'".
Ms Magson opted not to give evidence during her trial but Mr House urged the jury not to hold this against her.
He said: "If you are not sure the prosecution case is right, or it might not be right, then the proper verdict is not guilty of murder and not guilty of manslaughter."
Judge Nicholas Dean is due to complete summing up later.