Patricia Rosen died after 'drug mix-up' at Leicester care home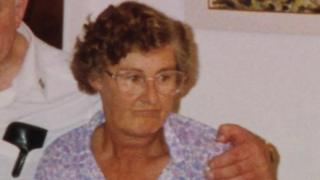 A care home resident died after being given another patient's painkiller dosage, an inquest has heard.
Patricia Rosen, 78, entered Cedar Court Care Home in Wigston, Leicestershire, on 18 February 2013 and died the following morning.
The amount of oxycodone given to her was 16 times her usual level and meant for another woman named Patricia.
Leicester Coroner's Court heard an agency nurse, who was new, had been running behind when the error occurred.
More on this story and other news in Leicestershire
The inquest jury was told the nurse was left in charge of more than 50 patients the night Mrs Rosen was given the fatal dosage.
Mrs Rosen had only been at the home one day following a spell in hospital.
Mabel Casyao, the home's deputy manager, told the jury she went through with the new nurse how to administer and record the drugs.
She said she stayed until midnight as they had been running behind with medication.
Ms Casyao told the inquest with hindsight she should have stayed until all the drugs had been given.
Mrs Rosen died the next day following the fatal dosage.
Police investigated but the Crown Prosecution Service decided not to bring any charges against anyone.
The inquest continues.