PC's Halloween treat after pumpkins stolen in Oakham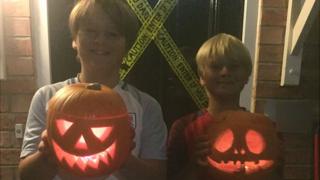 Two boys left "mortified" by the theft of their pumpkins were given a Halloween treat - after a police officer bought, carved and dropped off a new pair outside their house.
Twins Ethan and Joe Paragreen, aged 10, left their pumpkins on their doorstep in Oakham, Rutland, on Saturday.
But half an hour later, mother Melanie realised they had disappeared and tweeted PC Joe Lloyd.
PC Lloyd said the praise for his actions has been "humbling".
Updates on this story and more from Leicestershire
PC Lloyd said, in his 15 years with Leicestershire Police, he had never heard of anyone stealing a pumpkin.
"I thought it'd be a nice thing to do," he said. "I didn't even think about it.
"I read the tweet, replied saying: 'That's terrible', was driving to work and was a bit early, so I popped into the local shop [to buy the pumpkins]."
After enlisting the help of his colleagues, PC Lloyd dropped off the carved and lit pumpkins on Sunday.
Melanie Paragreen, 45, and her sons discovered the spooky surprise after returning from a friend's house that evening.
"I really feel Joe and his team deserve all the praise they get," she said.
"At first we thought the pumpkins had been returned, but we realised the carvings were different and then I got a message from Joe.
"It was such a lovely gesture - it's policing at its best."