Hundreds march 'to save children's heart surgery' at Leicester hospital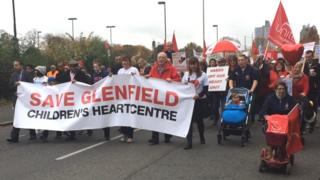 Hundreds of people marched through Leicester to protest against plans to stop children's heart surgery at a city hospital.
NHS England plans to halt the service at Leicester's Glenfield Children's Heart Centre by April 2017.
Organisers of the rally said the "devastating" proposal would put children's lives at risk.
NHS England said the centre was not meeting standards set out last year to ensure patients got high quality care.
March organiser Steve Score, whose son had open heart surgery at the hospital last year, said: "NHS England's justifications are wrong.
"Glenfield has excellent outcomes and is on track to meet the targets for number of operations that have been set."
Mr Score said more than 60,000 people had signed a petition opposing the plans.
John Adler, chief executive at University Hospitals of Leicester NHS Trust, said: "We are confident that our clinical outcomes are now amongst the best in the country.
"We strongly disagree with NHS England's decision and will not sit by whilst they destroy our fabulous service."
The union, Unite, said the move was "penny-pinching and cruel" and not based on hard empirical evidence.
NHS England said there needed to be a minimum number of operations carried out by the unit for it to be considered safe and it did not think Glenfield would reach that figure.
It added that the plans would improve care for patients across the country.