Marked grave for survivor of Charge of the Light Brigade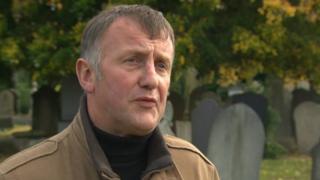 A man, believed to have been a Charge of the Light Brigade survivor, is to be recognised with a marked grave after a campaign by one of his descendants.
Private John Burton was buried in an unmarked grave at Welford Road Cemetery in Leicester, 15 years after the Crimean War.
About 300 British cavalrymen were killed or injured when they charged Russian artillery on 25 October, 1854.
Mr Burton's relative Jason Robinson is to get a headstone installed next year.
More on this story and other news in Leicestershire
Alfred Lord Tennyson's the Charge of the Light Brigade poem has long held the public's imagination about the tragedy.
The charge is considered to be a symbol of "glorious failure" by many historians.
Pte Burton, who served with the 11th Hussars regiment, is thought to have been one of the lucky survivors - the only one from Leicester, it is believed.
Mr Robinson, from Aldershot, Hampshire, recently visited the grave for the first time.
He said: "[John Burton] worked as a butcher in the Russell Square area [of Leicester] where he lived with his wife and four or five children.
"You would never think there was a grave, [it's] just flat grass. It's quite moving really.
"Hopefully next year things will be changing... it's about time he was recognised.
"At least then it's there for all time and for other people to appreciate too as part of our history and culture."
Alan Brown, from Leicester City Council, said the grave had had no memorial for about 150 years.
He said: "It's nice that family members this far after the burial are willing to come along and put up a memorial to [John Burton].
"To have someone from the Charge of the Light Brigade interred [here] is great news for the cemetery and visitors."
---
The Charge of the Light Brigade 1854
The Light Brigade was commanded by the Earl of Cardigan in Crimea in 1854
An order was misinterpreted and led to a charge of 673 soldiers into rows of Russian artillery
They were bombarded from all sides and suffered heavy casualties
It was a fiasco and only a charge by French cavalry saved the Light Brigade from total destruction
The disaster led to a blame game between senior army officers
Source: National Archives
---