Leicester Diwali: Parade and fireworks mark start of celebrations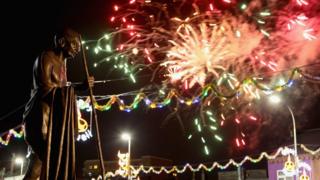 Two weeks of celebrations of the festival of Diwali have kicked off in Leicester with a parade and fireworks display.
About 30,000 people gathered to watch the annual lights switch-on, believed to be the largest celebration of the festival outside India.
Diwali Day, which falls on 30 October this year, is one of the biggest festivals in the Indian calendar.
Diwali is celebrated by Hindus, Sikhs and Jains.
People lined the street to see the lights turned on at 19:30 BST and the subsequent firework display.
---
The festival of Diwali
Diwali derives from a Sanskrit word meaning row of lights
Small earthenware lamps filled with oil are lit and lined along parapets of temples and houses and set adrift on rivers and streams
Day four of the five-day festival is the main event and the beginning of the lunar month of Karttika - the Vikrama calendar's new year
For many Hindus, the festival is an opportunity to honour Lakshmi, the goddess of wealth. But a number of other gods and myths are also marked
---
Last year, a new "revamped" programme of Diwali events was introduced after the festival was was described as "stale bread".
A special stage was set up at the Diwali Village on Cossington Street Recreation Ground for the first time.
Dance performances, lights shows and food stalls also form part of the celebrations.