Leicester HIV screening limit policy defended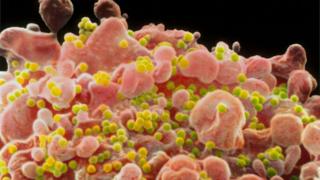 A policy of selective screening for HIV has been defended by the officials responsible.
Guidelines from the British HIV Association call for testing for all adults when they register with a GP.
But a BBC survey has found Leicester, which is in the top five areas England for HIV, is one a number of areas ignoring this advice.
The city council said it saw 50,000 new patients a year and targeting the £8 tests was a better use of resources.
In England, local authorities are responsible for funding population based HIV testing in this way.
For the latest on this and other stories in Leicestershire
More than 100,000 people live with HIV in the UK, according to figures from Public Health England.
Of these, an estimated 17% are unaware of their infection.
In 2013, the British HIV Association recommended high-prevalence areas should have all men and women offered a test on registration with their GP or when admitted to hospital.
In Leicester the rate is 3.82 per 1,000, one of the highest outside London. But the city council has confirmed it does not offer this option.
Chief executive of the Leicestershire Aids Support Service, Jenny Hands, said: "It is sad if it is not being done and it would save a lot of late diagnoses if we were getting people tested.
"Late diagnosis means people are more at risk of full blown AIDS and then the treatment may or may not be effective.
"Early testing means early treatment, which means people can live long and healthy lives."
Liz Rodrigo, the public health specialist at the city council, said: "What we have done is look at our data, looked at the communities which are most likely to have HIV and then we work carefully with our voluntary sector organisations to provide the testing that is required in those communities.
"If you are going to have a blanket screening then you are likely to spend money on people that have already been tested.
"We have a public duty to make sure we spend our money appropriately."