Great Central Railway museum 'should become icon'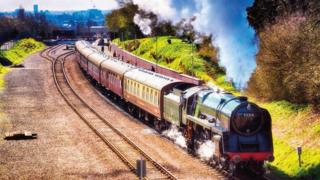 Six designs for a new £18m heritage railway museum "of national standing" have been revealed.
Organisers said the guiding principle would be a striking appearance that allowed the public to get close to working engines.
It will house locomotives from the National Railway Museum (NRM) in York and the Great Central Railway (GCR) at its Leicestershire base.
Plans are on show for one day with a decision due to be taken this month.
The museum would sit alongside the Leicester North Station of the GCR, which spans Leicestershire and Nottinghamshire.
The plan is part of a wider project to reconnect two stretches of line between Leicester and Nottingham to create an unbroken 18 mile (23km) heritage route.
The GCR said the museum, which is due to open in 2021, will be visible from various points across the city.
Andy Munro, chief executive officer of GCR, said he hoped the building "will become a Leicester icon".
Updates on this story and more from Leicestershire
"[The design] needs to be of a building of considerable architectural merit... and will incorporate an operational station on what is Europe's only heritage mainline railway," he said.
The museum will be connected to the running lines to allow displays to be changed, and locomotives and carriages to be operated on the tracks of the railway.
Mr Munro said: "Some museums can feel a little still and cold.
"A fundamental requirement of the new museum is that people will be able to see the trains operating while being in the galleries."
Exhibits will include V2 class steam locomotive Green Arrow, and the only surviving GCR passenger engine, Butler Henderson.
Paul Kirkman, director of the NRM, said: "Leicester had one of the world's earliest railways. It was also a hub of the Midland line.
"We want to put key parts of the national collection on display at the heart of the country for the first time."
In 2015, the GCR received £10m towards the project from the Heritage Lottery Fund. It hopes to apply for planning permission in autumn 2017 and start building in 2018.